This week, I had the opportunity to review Homeschool Programming Inc.'s  Homeschool Programming Java Series with my 9th grade son. He was actually the driving force behind my wanting this series, as he is very interested in coding, and it certainly isn't my field of expertise.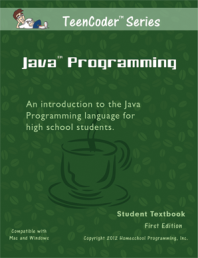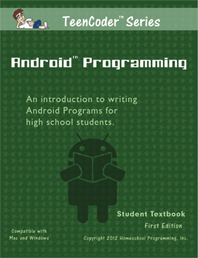 The series includes a 2 semester course assuming you work on 1 lesson a week. We received a download of the curriculum, the first semester focusing on Java Programming (referenced at intro to Java) and the second on Android Programming. Of course, my favorite PDF download format, made this a snap to receive.
I also a received a DVD, which helps clarify each lesson, but my son liked just working with the PDF lessons. I am planning on using this for my 5th grader when he is ready, and the DVD will be perfect for his visual learning needs.
Both my son's and my computer run Windows 7, and everything worked perfectly. It does require at least Windows XP to run, and if you have a Mac, OS 10.5.8 to work.
The recommendation from the publisher is 9th-12th grades, and I agree. Perhaps a motivated younger child could manage, but my interested 9th grader found the program challenging.
To be perfectly honest, from the first page, I knew that coding wasn't for me. My son however, didn't want to stop working on the lessons. He kept saying things like:
"Oh! That's how you do it!"
"THAT'S what that means!"
These are signs that this curriculum is both interesting and informative. My son is a no nonsense sort of learner, and would not be enjoying this so much if it weren't meeting his needs.
The course also is a stand alone, which includes links to the necessary additional programs that are used to code. The lessons include interesting activities for the student to gain confidence and work on the lessons in a tangible way. The projects included are immediately above anything I have ever seen in coding how-to's for teens, and as I originally said, my son is very interested in writing code, and even he felt challenged.
TeenCoder Java  and TeenCoder Android cost $75.00 each or $90.00 for each course along with the video. You can save by buying both together; TeenCoder Java Year Pack and it is $130.oo for the course or $155.00 for the complete 2 semester course and video.
My student is just finishing up the first semester and looking forward to continuing with TeenCoder Android for the second semester. The Android part of the curriculum is going to be teaching him how to write his own Android applications.
This part of the course covers:
Open Source Software
Mobile Devices
Internet Television
All about the Android development tools and plug ins
Lessons that include using an emulator to see the student's efforts in an Android view. This is invaluable to not only save time, but to motivate.
I highly recommend this TeenCoder series with the caveat that your student is highly motivated to learn to code, and he/she is able to work through the lessons with little to no help, unless you are lucky enough to already know how to code yourself.
We will continue to use this program with my 9th grade son for the rest of the summer and into the fall school year. It's that good!