I had such fun reviewing this next homeschool item from  Spanish For You. The actual product that I received was Estaciones (this link is actually a sample), an e book download . In a word, awesome!
Estaciones, Grades 3-4 Package, $39.95, is a comprehensive Spanish curriculum, which kept the lessons clean and to the point. There was not any lesson or activity that seemed to be just filling the time. We (my 4th grade son) and I appreciate the directness very much.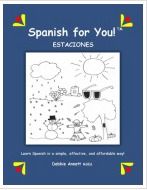 To use Spanish For You, it is best to go to the site and choose exactly where your child's grade level is. The lessons are geared to not only teach, but to also give your new learner the confidence he or she needs to keep working.
Some specifics that that I liked about the curriculum:
Every week was divided up for you and your student. For instance,parts of the lesson  covered Vocabulary, common words, then board or notebook work.
As the teacher, I appreciated how every week was spelled out. That way, as long as my son and I kept to the schedule, by the end of the week, he learned a few new words, and had settled in to the routine of the curriculum. He works better that way, and I like to not have as much extra organizing and planning to do.
Another nice thing about the Estaciones Lesson Guide, is that there are plenty of games and activities built in. We never felt like it was the same old thing every day. Vocabulary Guessing games, flashcards and even options for dice and using a timer (a personal favorite in this house).
When working through the weekly lessons, there are plenty of choices for you to select a different plan. This works out great if you need some flexibility to your days.
This brings me to what potentially might be a problem for some families:
If you need a ridged schedule for starting and stopping a class, this might not be the right curriculum for you. I found that some days we whipped right through the lesson and practice, while others took long enough to become homework. I like that flexibility, but others may not.
One last thing, it may seem random, but learning a lesson in an indirect way a great way to make that lesson stick. I thought the weather mapping lesson was brilliant. My son was just as happy to keep track of the weather and then have to talk to me using Spanish  words to describe it.
All in all, I love this Spanish curriculum. We plan on finishing up with this, and then buying the next level. It's that good.